In 1997, I broke my left foot by tripping over my Ginger's (who is no longer with us) sleepy body: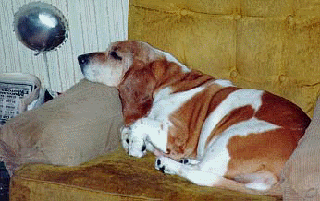 Then, the next year, I broke my right foot by stepping on a hole during my daughter's commencement exercises.

That same year, I we went to the Renaissance Festival in our local area, where they were selling walking sticks. I really wanted one, as I couldn't walk very well, but hubby and I didn't want to spend a lot of money on a fancy piece of wood. But yesterday, I went out and did it. I bought a fancy piece of wood. It was for charity, so it was a good cause. Here's what it looks like (I will take my own pictures when it arrives):



Walking Stick







And yes, it is autographed by Garrison Keillor.