My computer was attacked by a rogue antimalware program called Vista Security Tool 2010 that mimics the real Microsoft Security Tool. The real security tool looks like this:




The fake looks like this: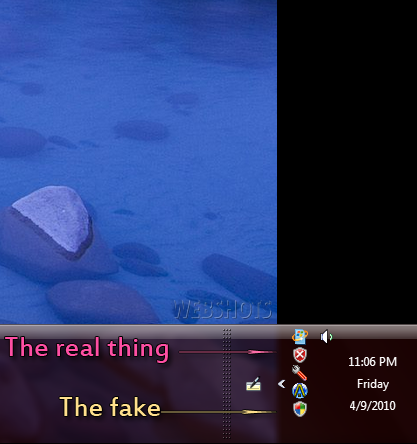 I don't kow how i got it. I've been researching about it and found that a lot of people have talked about getting this rogue after they updated their FireFox to 3.62 or 3.63:


Issue
I have another kind of problem with Firefox
Description
Vista Security Tool 2010 began popping up reports that system is infected with trojans, email worms, viruses, backdoor malware etc. When loading firefox, vista security blocked program stating that firefox is infected with trojan-bnk.win32. keylogger.gen and that private data can be stolen along with credit card details and passwords.
This happened
Every time Firefox opened
March 29, 2010.
Firefox version
3.6.2
Operating system
Windows Vista
User Agent
Mozilla/5.0 (Windows; U; Windows NT 6.0; en-US; rv:1.9.2.2) Gecko/20100316 Firefox/3.6.2 (.NET CLR 3.5.30729)
Plugins installed



This is interesting as I just recently upgraded my FireFox and started having my troubles. I don't want to blame it on the browser, but if you are using FireFox, I'd be careful when upgrading. Currently, I am using another user (my computer has 5 authorized users) on my computer and my browser is FireFox 3.5 and am not experiencing any problems.



When I log in as myself, as soon as get on, I get bombarded with warning about viruses and Trojans. Here are some examples: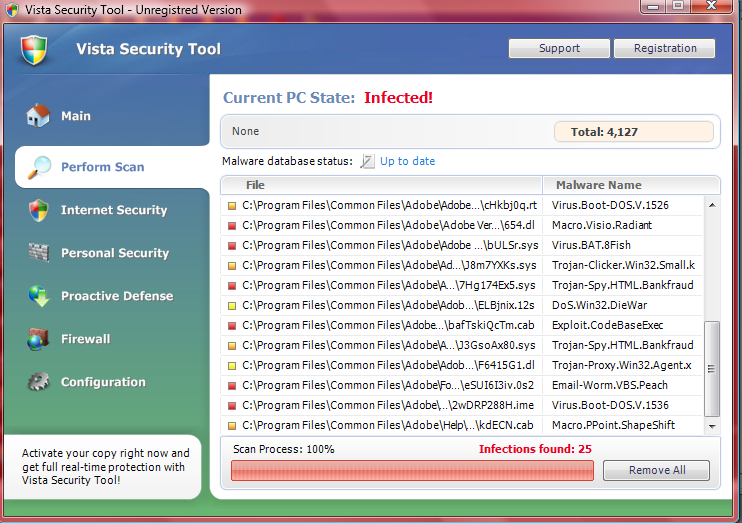 None of these viruses and Trojans are real. The rogue program is actually using scare tactics to get you to buy the program. The program will do nothing, and your money will never be returned.

Here's what I found about it online:





Vista Security Tool 2010 is a rogue anti-malware program that usually comes from fake online scanners and fake video websites. While running, this fake program will run a fake system scan and report numerous spyware infections to make you think that your computer is infected with various malware. Then it will ask you to pay for a full version of the program to remove the infections which as well already know don't even exist. Don't buy this bogus program and uninstall Vista Security Tool 2010 from your computer as soon as possible.

As a typical scareware, VistaSecurityTool2010 will display fake security warnings and notifications from Windows Task bar to scare you even more. But don't worry, just like the false scan results these fake security warnings are fake and should be ignored. Furthermore, Vista Security Tool 2010 will impersonate Windows Security Center and claim that your computer is not protected and that you should purchase the full version of the program to ensure full real time system protection. Again, that's a part of a scam, so obviously you won't get any protection. Besides, if you purchase this program you will lose your money and won't get them back easily. In case you already purchased it, you should contact your credit card company and dispute the charges.

What is more, the rogue program will block legitimate software and especially antivirus and antispyware programs. If you find that your computer is infected with this rogue program then you should use the removal instructions found at this link to remove Vista Security Tool 2010 from your computer either manually or with an automatic removal tool



I'll be so glad when this stupid thing is removed from my computer. It's so frustrating.