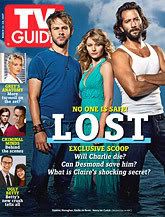 Lost's Future Shock No one is safe as mysteries unfold — with a vengeance
by Shawna Malcom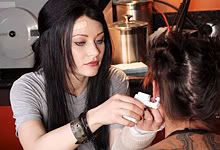 Emilie de Ravin, Lost
It's late in the afternoon on Valentine's Day, and love has found the set of
Lost
. Josh Holloway, who plays prickly con man Sawyer, nurses a sore throat with a cup of hot tea, his wife, Yessica, by his side. Jorge Garcia, the heartbroken Hurley, huddles attentively with his new girlfriend. Even Evangeline Lilly and Dominic Monaghan — Kate and Charlie — steal occasional kisses, public displays of affection typically avoided by this usually discreet real-life pair.
The playful mood extends beyond the couples, though. Today's scene, shot on Oahu's picturesque North Shore for a mid-April episode, is something of a reunion. Except for the taping of a brief dream sequence, the sprawling cast hasn't performed en masse all season. The gathering has definitely upped the hugs-and-laughs vibe. In between takes, Holloway jumps into the open arms of Matthew Fox, who plays good doc Jack. Garcia, Monaghan and Daniel Dae Kim (Jin) sit in a circle, cracking jokes and tackling a New York Times crossword puzzle. And when Fox is finished clowning with Holloway, he turns to Yunjin Kim (Sun), twirling and gently dipping his costar in a surfside dance. "When I saw Matthew, I was like, 'Oh, we're still on the same show? I had no idea!'" Kim says with a laugh. "Having everyone back on the beach, that's something I've missed."
She's not the only one. Almost from the moment those mysterious Others kidnapped Jack, Kate and Sawyer at the end of Season 2, many fans began moaning about the trio's absence from the beach camp. And that was only one criticism — perhaps not even the sharpest — that's been lobbed at the Emmy-winning drama during its closely scrutinized third season. A few more: What's up with all the attention being paid to the Others? How about more airtime for the original characters like Sayid and Claire?
And the loudest and most persistent plea: How about some freakin' answers already?!
As viewer discontent has grown, Lost's ratings have started to shrink. By the time the show finished its six-episode mini-season in November, it was sometimes getting beaten by CBS' Criminal Minds. And since its Feb. 7 return at a new 10 pm/ET time slot, Lost has consistently come in second behind CBS' CSI: NY (though it still wins in the advertiser-coveted 18-49 demographic).
Clearly, that three-month break in momentum, designed to do away with all those much-maligned repeats of Season 2, backfired. "In hindsight, was it the right decision? No," acknowledges executive producer Carlton Cuse. "But at the time we supported it and thought it was the best compromise." Says executive producer Damon Lindelof, "We're 65 hours into a heavily serialized show. Some casual viewers may be gone, but we're very proud to have the loyal audience we do have."
And if they're not exactly doing twirls and dips on the beach about the ratings slip, the producers say they are sure the nonstop run of episodes through May will have viewers hooked again. "We feel confident that by the time you get to the end of Season 3," Cuse says, "you will feel like you've seen really good stories, spent time with the characters that you love and gotten a sufficient dose of answers."
A big cloud of black smoke? TV Guide has gotten a sneak peek at several upcoming episodes and — while we don't want to overhype the way ABC's breathless promos have done recently (so what were those three big answers promised last month?) — we can say that viewers should expect several well-crafted and emotionally satisfying developments.
The March 14 episode, for example, focuses on Claire, though with her flashback-era black hair and goth vibe, she's hardly the Claire we've come to know. "She's dealing with a lot of stuff with her parents," Emilie de Ravin reveals. And — SPOILER ALERT! — might her father, in fact, also be Jack's alcoholic pop? The actress' lips are sealed. But by the end of the episode, viewers definitely will have met Claire's mother and father.
The same episode also picks up the Desmond-predicts-Charlie's-death thread introduced at the end of the Feb. 14 episode. Previews Henry Ian Cusick, who plays psychic Desmond: "I tell Charlie, 'Whatever Claire has in store for you, don't go with it, because it's gonna be your end.'"


Source: TV Guide