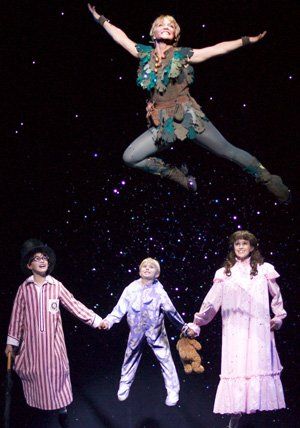 Hubby and I had an alone day with our 3-year old granddaughter.We took her to see Cathy Rigby in Peter Pan at
Wolf Trap.
This was Meghan's first Broadway Musical and she loved it.
Cathy Rigby was amazing. She is soon 60 years old, but she is so limber. Seeing her doing aerial acrobatics was amazing. Meghan sat on our laps the first half of the show. During intermission, someone handed a booster seat to us and Meghan spent the other half sitting in her own seat between us. I wish that I could have taken her picture. She just sat there staring at the stage totally mesmerized. I was happy that she sat on my lap for the first half. There was a gun shooting that startled her and when the crocodile first appeared she told me that it was scary. She also thought that the pirates were scary. But by the time the second act took place, she realized that it was make believe and she was feeling safer.
At the end, during the bows, Cathy Rigby flew out to the audience. Meghan shrieked in happiness. She kept telling us that she loved the experience. This was not Meghan's first theatre performance. She did see Charlotte's Web in a children's theatre setting. But this play was special. We had great close orchestra seats as well.
Meghan Photos
On the way to the concert hall
Granpa is eating.
Showing off new toys grandma bought
Anticipation