I saw a disturbing segment in the news today. It was, once again, about a pit-bull attack. Now, for all intents and purposes, my favorite dog breed is the basset hound. They are clownish, stubborn as a mule, loving, loyal to those who love them, and a bit less active, which fits my life style to a tee. However, I love animals. My daughter has a pit bull. He is the most loving creature on Earth. He lives with a cat, who came to live with him way after he was the established pet in the household. Not ever, did he harm that cat. The cat rules. He comes to my house, not once, does he start a fight, not once. Pit bulls are misunderstood. They are strong dogs, muscular, active, and loyal. Yes, they are loyal. In the 19th and beginning of the 20th century, they were used as "nanny" dogs, dogs that took care of the baby while mom was not looking. Today, pit bulls are revered as bad and evil. They are only as bad as the people who take care of them make them to be. We love our Macchi. He is an adored member of the family. He reciprocates in kindness.
Now, back onto the news story: Not far from my neighborhood, two pit bull attacked a little boy and his new 8-week-old puppy. The poor puppy suffered a broken jaw and two broken legs. It was horrible. Unfortunately, my state is now trying to pass a Breed Specific Legislation (BSL). I love that this article and the person interviewed are viewing the situation fairly:
Animal Control officers in Germantown are on the hunt for the owner of a pair of pit bulls blamed in the attack of a 10-year-old boy and his puppy Saturday afternoon.
The two pit bulls grabbed the puppy from the arms of his owner, breaking the puppy's jaw and two legs. The boy was also bitten on his hands and arms.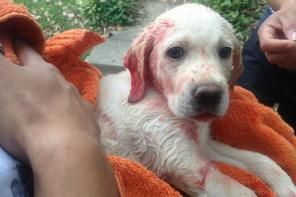 This 8-week-old puppy is recovering from a broken jaw and two broken legs following an attack by two pit bulls.
Larry Solomon heard the boy's calls for help and ran from his home to try and help.
"It was awful," Solomon said. "... he was screaming at the dogs to leave him alone and let go. The dogs were jumping on him and biting him on the arms. They were scratching, and they actually grabbed the puppy out of his arms. [They were] starting to try and kill it."
The dogs finally stopped once a neighbor hit them with a garden hose.
Omar Amaya and his dog, Rhino, ran into the same vicious pair last week. Rhino, a gentle pit bull, was no match.
"They ran after him and attacked him on the neck and hind legs," Amaya recalled.
Luckily, a week later, Rhino is healing well.
Animal Control seized the culprits, a male and female, Saturday afternoon from someone described as a caretaker. That person was given six citations, but authorities are still working to locate the owner of the dogs. The results of an ongoing investigation will determine the future of the pit bull pair.
The mother of the boy they attacked plans to sue their owner and declines an on camera interview.
Meanwhile, Solomon says he just hopes people don't blame the breed.
"I blame the owners of the dogs. The dogs are a reflection of the owners," Solomon continued.
I wish they would also report the times that pit bulls do nothing but lick you to death!